Our mission is to know Christ and to disciple people into a relationship with Him.
Northstar is a Christ-centered, church-based campus ministry committed to teaching people how to live for Jesus and make disciples of Him.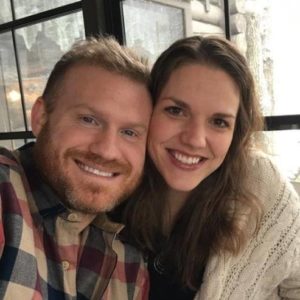 elijah and jessica cole
Both Elijah and Jessica grew up in Christian families in Kentucky. Elijah came to a faith in Jesus at a young age, but as he grew older he wandered away from his faith. After a few years of doing his own thing, he realized that everything outside of God was hopeless and meaningless and rekindled the faith he once had as a child. Over the past several years, Elijah has worked as a businessman and been involved in various ministries. Jessica also gave her life to the Lord at a young age. She has been pursuing Him ever since. After obtaining a degree in Spanish from Eastern Kentucky University, Jessica worked for the Migrant Education Program in Kentucky for 2 1/2 years and also worked as a foreign missionary in several different countries.
They both have a heart to see young people reached and transformed into disciples of Jesus. Elijah & Jessica were trained in campus ministry at the University of Kansas from the fall of 2014 to the spring of 2016. In the fall of 2016, their team launched Northstar Campus Ministry at NKU and that is where they currently serve. They have four children; three sons and a daughter.
henry and dana foster
Henry and Dana's bio is coming soon!
julia olliges
Julia was raised in a loving Christian home and believed in God at a young age. Julia would read the Bible and go to church but still felt like something was missing. When she was seventeen she started making some selfish decisions and became depressed as a result. Julia felt hopeless and wondered if there was a purpose for her life. One night she got on her knees asking for forgiveness and singing aloud to the Lord. At that moment she experienced the presence of God like she never had and began seeking Him with a fresh hunger. After high school Julia attended "YWAM's" discipleship training school. It was there that Julia was burdened for the lost and felt the call to full time ministry. This is Julia's 3rd year of campus ministry. She loves talking to people from different cultures and leading the youth into a relationship with Jesus.
amanda brandner
Ever since Amanda was a young girl, she has believed the Lord has called her to ministry. While she originally thought she would be a missionary overseas, the Lord led her to Northern Kentucky University where she studied education and history – but most importantly met Northstar Ministries. Previously, Amanda's relationship with the Lord had been stagnant, but once at Northstar it exploded into a relationship filled with love, grace and healing. In Northstar as a college student, Amanda connected with people who were willing to disciple her into a deeper and richer relationship with Christ and stand by her as she walked through the healing journey that the Lord had for her. When the Lord spoke to Amanda and called her to join Northstar Minsitries's staff, she was overjoyed at the opportunity to serve the Lord by sharing His gospel and walk with young people in discipleship!
LifeGate Church
NorthStar ministries is an affiliate of LifeGate Church in Newport, KY. Our church is a non-denominational, Christ-centered Church.
We would love for you to come worship with us on Sundays at 10AM. Our church is located at 601 E 2nd St., Newport, KY 41071. For more information on LifeGate church, click the link below.